19 November 2022
INFERNO SERIES 2023: DISCOVER ALL THE YEAR'S NEWS
FOUR STAGES for a 2023 of real DEVILS!
It's back to the fresh snow of Trentino, for an all downhill 2023 - which sees the return to our and your favourite locations, with the addition of a further stage in July.

That's right, this year there will be four stages of the INFERNO SERIES 2023:

INFERNO SNOW - Alpe Cimbra
12/03/2023: SHORT 3+ PRO/OPEN at 10 a.m. / LONG 8+ PRO/OPEN at 12 p.m.

INFERNO PARK - hu Altomincio village
13/05/2023: KIDS 11 a.m. / SHORT 3+ PRO/OPEN 2 p.m.
14/05/2023: LONG 10+ PRO/OPEN 10.00 a.m.

INFERNO ALP - Prato Nevoso
16/07/2023: SHORT 4+ PRO/OPEN 10 am / LONG 10+ PRO/OPEN 12 noon

INFERNO MUD - hu Norcenni Girasole village
14/10/2023 : LONG 12+ PRO/OPEN 10.00 a.m. /
15/10/2023: KIDS 10.00 a.m. / SHORT 3+ PRO 11.00 a.m. / SHORT 6+ OPEN/team 12.00 noon

At each stage there will be the possibility of registering for the +3 km SHORT and +10 km LONG (approx.!) course, each time both competitive (PRO) and non-competitive (OPEN). Everyone will be given the size that suits them best, in their preferred category.

There will be medals for all participants, at all INFERNO in 2023 - take them all and create your INFERNO SERIES 2023 medallion!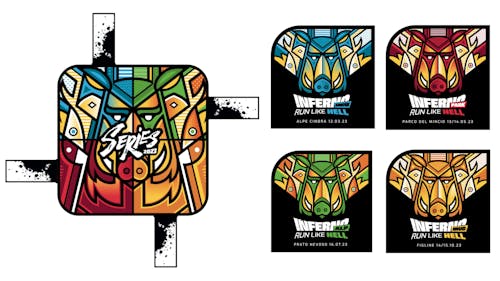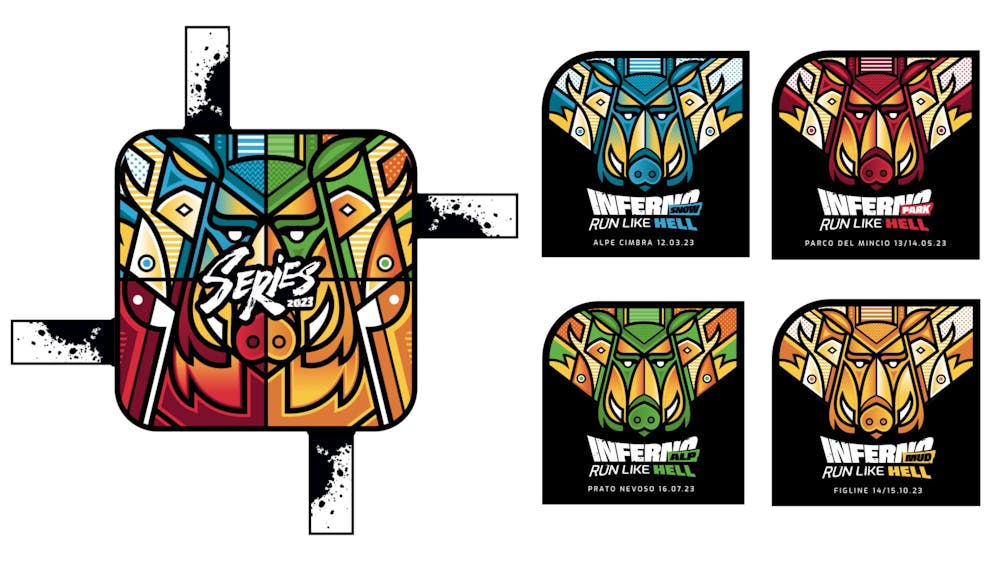 The T-shirts in the swag of all INFERNO stages will also leave you speechless! The new collaboration with the brand SMMASH resulted in some crazy starter tshirts!
Until a certain date before each race, it will also be possible to personalise them with your name or nickname. You can find more information about customisation on the webpage of each INFERNO race.



On huge demand, INFERNO KIDS returns at the INFERNO MUD stage and ... drum roll ... also in May at the INFERNO PARK stage! More information will follow as the date of the event approaches. For now, reassure your little devils, they will be able to climb, jump and get muddy again!
The stage of INFERNO MUD 2023, the grand finale of the Inferno Series 2023, will reserve quite a few surprises: those who have already taken part will find it hard to recognise the routes and obstacles. Get ready for a lot of mud and a lot of fun!
The 3-participant team race will only be held in October at this stage, with a +6 km course littered with collaborative obstacles and lots of mud!
Also new to this race format, Inferno a Team of three participants: if at the last minute, for various reasons, one of the members cannot come and you cannot find a third participant, you can come as two and race in Inferno in the Inferno Short Open - a race with an individual ticket; and best of all, at no cost.
What's more, what's more... and if that's still not enough for you, among the other hot news is the cancellation of the cost of changing participant's name: we have in fact cancelled the cost of passing the entry ticket on to another person, if you can't come to any of the INFERNO 2023 races for which you have an individual ticket. (Remember that the limit for using this service is 48 hours before the race and you can only use this service once).
It doesn't end there, we have reduced the prices of all INFERNO open races, meaning that trying to ride through Inferno will cost you less and you can bring your friends, family or whoever you want!
Inferno Series 2023 is just around the corner, so make sure you get your INFERNO tickets in your favourite category and race length, and maybe even enter the Inferno Series ranking, which this year also includes prizes for the different age groups, in addition to the usual rankings for the overall winners.
By purchasing the PASS you will be able to save a lot of money, you will find one for each format and category at unbeatable prices, which will slowly increase as time goes by!
Speaking of which, we have moved the date on which the price of INFERNO 2023 tickets changes, so pay attention to our communications, if you haven't yet subscribed to our newsletter we strongly advise you to do so as soon as possible to receive all the offers and news from the INFERNO world!
You will find all price change dates on our website, which is always up-to-date.
You can also subscribe to our brand new Telegram channel, there you will find in advance the details of each race, obstacles, altitude difference, gpx tracks... (link to channel)
Already before the start of the new year, we would like to let you know that there will be new collaborations for obstacles and that we have some new devilry in store for you: we have new obstacles and new collaborations in mind, which we will slowly unveil...
Are you ready?!
May it be a year of new obstacles overcome!